Panaga School – "Melilas" Middle Years in Brunei
Panaga School is positioned on the peaceful coast of Brunei Darussalam on Borneo Island. The school caters to learners from 2-13 years old, for children of Brunei Shell Petroleum's (BSP) expatriate staff. Panaga School's Middle Years has embedded NXplorers learning into their curriculum.
Satu Impian Eco Festivals
On the 1st June 2019, Satu Impian (Malay: 'One Dream') Sustainability Festival provided a forum to share the outcomes of Panaga School's student learning with local schools and the wider Bruneian community. NXplorers guided students to create products to sell at this event, held in a local shopping mall. Attendees were captivated by the array of products showcased, such as seed embedded recycled greeting cards, 100% natural soaps and fused, laminated plastic shopping bags which students had developed as part of their Design & Technology lessons. Students also gave live demonstrations to encourage others to try their ideas at home, and conveyed sustainability messages through emotive performing arts presentations.
Further community endeavours evolved from this initial Satu Impian event, when Panaga School collaborated with BSP's environmental group, Future Energy Lions. Facebook and Instagram became forums to influence a wider audience and spread messages of sustainability when Satu Impian re-emerged as an Eco-Festival at a local recreation centre on the 6th December 2019. A variety of guest speakers inspired attendees to consider ways to reduce their carbon footprint, alongside Panaga School's student-led sustainability market selling new innovative outcomes resulting from learning through NXplorers.
Student Projects
Students researched, designed and created their own sustainable products to sell at the event. Products ranged from jewellery pendants made from reformed type 2 and 5 plastics, zipped bags made from old PPA overall pockets and hair scrunchies created from clothing to avoid fabric waste. Packaging reduction was also promoted through bake and smoothie sales, plus a student photography exhibition with a 'Sustainable' theme provided framed prints for sale at the event.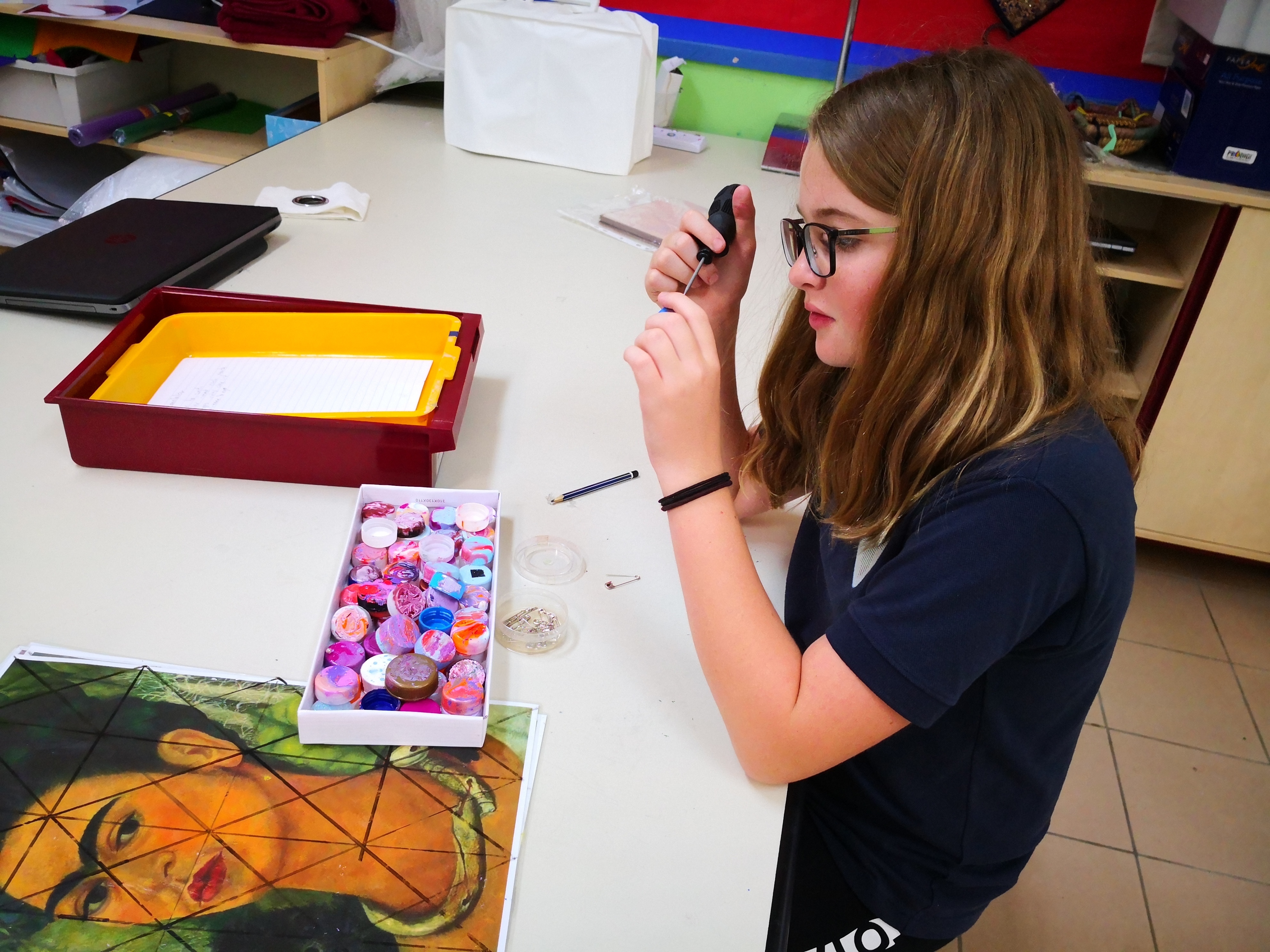 "I could design my own product however I wanted it to be."
Student working on her sustainable plastic pendant jewellery